HEAATM(N-Hydroxyethyl acrylamide)
Registration Number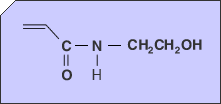 Characteristics
Although HEAATM is a monofunctional monomer, it provides low skin irritation (primary irritation index (P.I.I.) =0.0.) Low in vapor pressure, it has little smell.
As an amide monomer, HEAATM is superior in resistance to hydrolysis and in adhesion to ester monomers such as hydroxyethyl acrylate and hydroxyethyl methacrylate.
HEAATM exhibits high reactivity of photo-polymerization and forms a hard coating film.
Applications
Adhesives
Coating materials
Fiber modification agents
Chemicals for paper making
Reactive diluents for ultraviolet curable resins
Properties
| | |
| --- | --- |
| Chemical formula | C5H9NO2 |
| Molecular weight | 115.15 |
| Appearance | Yellowish clear liquid |
| Gravity | 1.12 |
| Refractive index | 1.515 |
| Boiling point | 127~130℃(0.1mmHg) |
| Viscosity | 280mPa・s(25℃) |
| Flash point | 189°C(Cleveland) |
| Solubility | Soluble in water and organic solvents, insoluble in toluene and n-hexane |
| Tg(Glass transition temp.) | 98℃ |
Packing
| | |
| --- | --- |
| Drum | 180kg(polyethylene) |
| Jerry can | 18kg(polyethylene) |
Links to Related Products