ACMOTM(Acryloyl morpholine)
Registration Number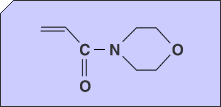 Characteristics
Although it is a monofunctional monomer, it provides low skin irritation(primary irritation index (P.I.I.) = 0.5). With low vapor pressure, it has little irritating smell.
As a monomer with low viscosity and high curability, it may be used as a reactive diluent for ultraviolet curable resins.
ACMOTM homopolymer is excellent in heat resistance and flexibility.
The ACMOTM monomer is compatible with water and organic solvents whereas ACMOTM homopolymer is insoluble in water and organic solvents.
Applications
Reactive diluents for ultraviolet curable resins
Coating materials
Oil field polymers
Properties
| | |
| --- | --- |
| Chemical formula | C7H11NO2 |
| Molecular weight | 141.17 |
| Appearance | Colorless or yellowish clear liquid |
| Gravity | 1.122 |
| Refractive index | 1.508 |
| Boiling point | 158℃(50mmHg) |
| Freezing point | <-35℃ |
| Viscosity | 12mPa・s(25℃) |
| Surface tension | 44.61 mN/m |
| Flash point | 130°C(Cleveland) |
| Solubility | Soluble in water and organic solvents, insoluble in n-haxane |
| Hygroscopicity | 1.8g/100g(20℃、60RH%) |
| Tg(Glass transition temp.) | 145℃ |
Packing
| | |
| --- | --- |
| Drum | 200kg(polyethylene) |
| Jerry can | 18kg(polyethylene) |
Links to Related Products