DEAATM(N,N-Diethyl acrylamide)
Registration Numbers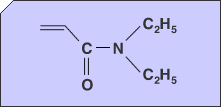 Characteristics
Highly compatible, it dissolves in different kinds of solvents, including n-hexane.
As it has low surface tension, it can effectively wet polypropylene surface which is not strongly oxidized by corona treatment.
The homopolymer water solution has a lower critical solution temperature (LCST) around 30°C. At this temperature or below, the polymer dissolves in water while it hardly dissolves in water at any temperature higher than that.
Applications
Adhesives
Coating materials
Fiber modification agents
Chemicals for paper making

Properties
| | |
| --- | --- |
| Chemical formula | C7H13NO |
| Molecular weight | 127.19 |
| Appearance | Colorless or yellowish clear liquid |
| Gravity | 0.925 |
| Refractive index | 1.464 |
| Boiling point | 56℃(3mmHg) |
| Freezing point | <-10℃ |
| Viscosity | 1.7mPa・s(25℃) |
| Surface tension | 33.13 mN/m |
| Flash point | 86°C(Cleveland) |
| Solubility | Soluble in water, normal organic solvents and n-hexane |
| Tg(Glass transition temp.) | 81℃ |
Packing
| | |
| --- | --- |
| Drum | 180kg(polyethylene) |
| Jerry can | 18kg(polyethylene) |
Links to Related Products