KJCMPA®-100(3-methoxy-N,N-dimethylpropanamide)
Registration Numbers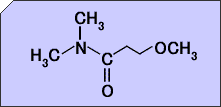 It can dissolve a variety of substances with different polar characters. Even for poorly-soluble polymers such as polyimide and polyamide-imide. KJCMPA-100 is a good candidate for alternative to NMP, DMF and 2-P.
Characteristics
Highly-amphiphilic amide solvent
High safety solvent does not show the reproductive toxicity (OECD 414 toxicity study)
High dissolving power for poorly-soluble polymers (polyamide (PA), polyimide (PI), polyamide-imide (PAI) and polyurethane (PU))
Easily dissolve a variety of substances with different polar characters
Low contact angle and high wettability for base materials
Applications
NMP replacement (N-Methyl-2-pyrrolidone, CAS Number : 872-50-4)
DMF replacement (N,N-dimethylformamide, CAS Number : 68-12-2)
2P replacement (2-Pyrrolidone, CAS Number : 616-45-5)
Solvent for polymerization of various polymers (PA, PI, PAI, PU and PUD)
Inks for inkjet printers
Coatings
Adhesives
Cleaners

※The usage of the product set forth herein does not warrant the successful results of applications of the product for specific usage.

※The data set forth herein shows sample figures measured under certain specific conditions.

※Please note the information set forth herein may be altered from time to time according to improvement of products without prior notice.
Properties
| | |
| --- | --- |
| Chemical formula | C6H13NO2 |
| Molecular weight | 131.17 |
| Appearance | Colorless clear liquid |
| Gravity | 0.994 |
| Freezing point | <-80℃ |
| Viscosity | 2.3mPa・s(20℃) |
Packing
| | |
| --- | --- |
| Drum | 180kg(polyethylene) |
| Jerry can | 18kg(polyethylene) |